Freddie Lewis On Using Music and Poetry to Share His Journey of Finding Self-Love as a Queer Person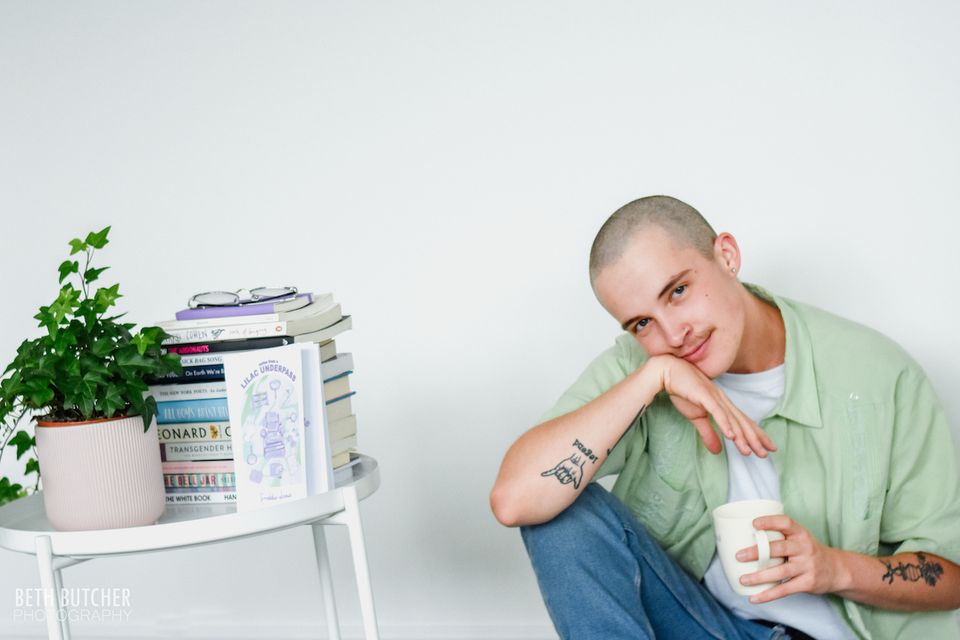 Think Queerly Podcast interview with gentle poet and transgender pop star, Freddie Lewis — TQ204
---
Freddie Lewis offers a rarely seen or heard genuineness of character that connects to our deeply humane level of self-acceptance and being seen for one's truest self. Through his poetry or his words put to music, he shares expressions of happiness, joy, playfulness, prettiness, and rhythmic beats that catch your ear, invites you in more deeply, and won't let go.
In some of Lewis' songs, there's a feeling reminiscent of Tracy Chapman's folksy "Fast Car," yet Lewis's narrative and melodies are more playful, poppy, and filled with hope. The song, "Cinderella" feels like folk and rap meets beat poetry, whereas "A Bookshop in Toronto" is more like a methodical exercise in beat poetry alone. His music gently grabs hold and invites you to slow down and pay attention.
In his poetry, Lewis employs playful turns of phrase and gorgeous one-liners that make you stop to catch your breath. In "Nerve-endings," he writes,
"It becomes difficult to feel small then

When my insignificance is exactly what made me."
And in "Aftermath (Trans Joy)," he shares that,
It was not the wreckage which made me,

But the aftermath
As a reader, you are gently caught off guard and need to go back and read the words again — as if you had turned your head at the wrong moment and missed something important. Freddie places words carefully on the page, only as many as need to be there. Line after line holds your attention to the truth that he vulnerably and courageously reveals. He doesn't need to tell you exactly what happened, yet his flowing narrative allows you to feel what did, making his work simply profound.
"Resilient" is one of my favourite poems from his collection, "Lilac Underpass," again for the simplicity with which Lewis expresses no longer accepting the opinions and expectations of others on his journey to self-love and identity:
There was only the discomfort

of those around,

that leaked into my self-perception…

I will tell you that I have simply decided

Not to bear the pain that does not belong to me.
Freddie demonstrates a simple, joyful celebration of self-pride that shows up in his being simply who he is. You don't need to be queer to appreciate his art — you only need to be human. To see what I mean, watch his premiere video, "Growing Pains:"
Episode Discussion Notes
The story of Freddie's first single and the video that dropped early this summer, "Growing Pains" loosely documents his transition.
What happened that literally changed everything that Freddie documents in his song, "A Bookshop in Toronto"? (Which was also the reason that promoted me to contact him for an interview).
Some of Freddie's songs remind me of Tracy Chapman. There's a feeling that's reminiscent of "Fast Car" but Freddie's music sounds happier and more hopeful. I ask him how he describes his music style. For example, "Cinderella" feels like folk-rap-beat-poetry, whereas "A Bookshop in Toronto" is more like beat poetry.
We discuss identity, privilege, the colour lilac, being pretty and masculine at the same time, and how that comes out in his music.
It was always words first for Freddie when it comes to creativity. He wrote stories early on as a child and was fascinated by how you could say things that weren't being said.
We speak about the reception of his music and poetry and how people have reached out making Freddie feel both seen and understood.
How Freddie creates his music to go with his words.
Spotify recently featured his music on the cover of their "Transcend" playlist and his work was introduced on the BBC. He also makes TikToks of his poetry.
Freddie tells us about his music and poetry project, "Lilac Underpass Mixtape" which drops on Friday, October 29, 2021.
We talk about the lessons of loss, grief, support, and love, how that informs who he is, and how that resulted in one of his favourite tracks on "Lilac Underpass Mixtape."
Freddie is also involved with a group in the UK called, We Create Space, where he offered a workshop to empower queer people to tell their story, and most recently, "Music is my Manifesto."

---
Watch my interview with Freddie on YouTube.
---
"Lilac Underpass Mixtape" is Out Now!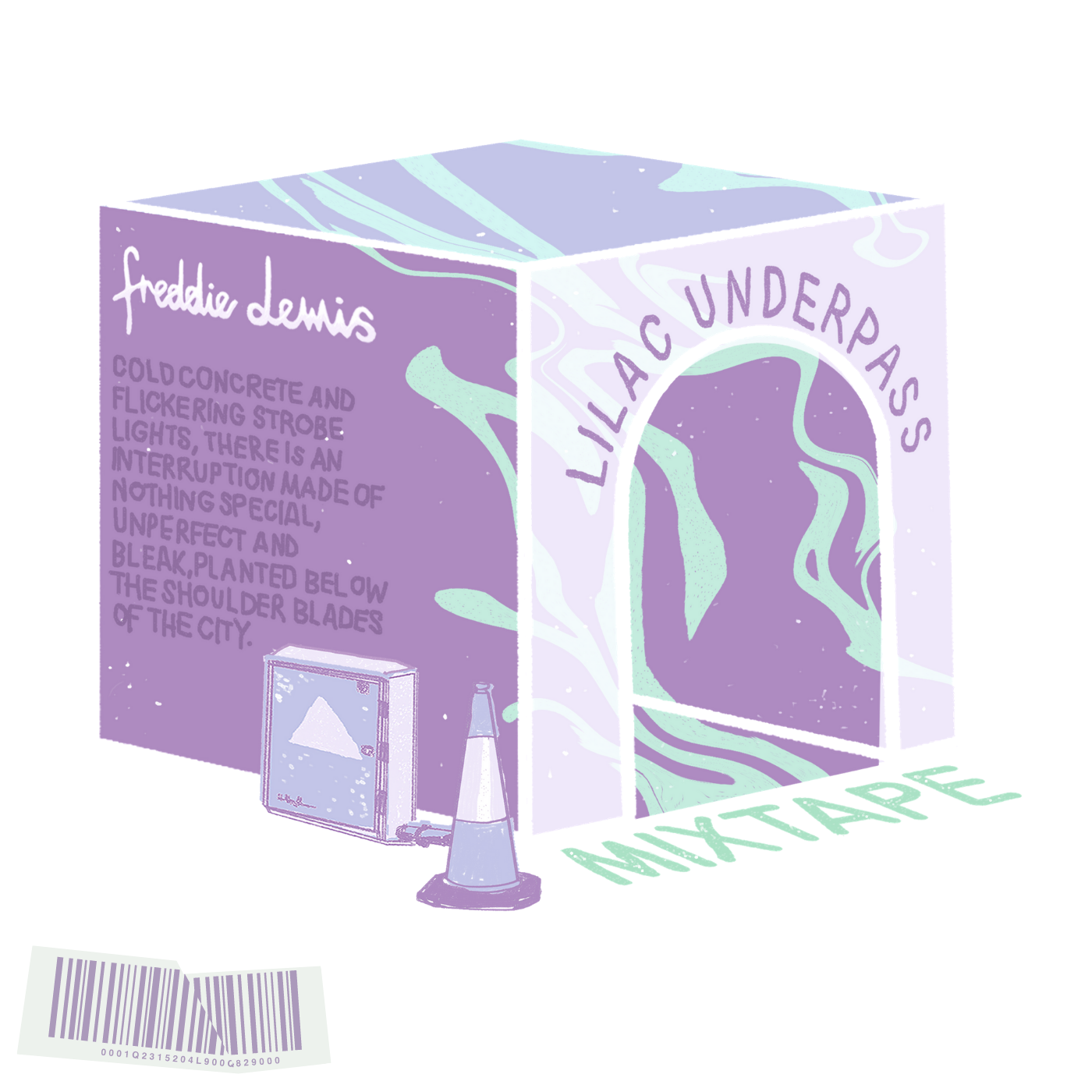 Freddie Lewis' debut body of work 'Lilac Underpass Mixtape' and accompanying poetry book 'Notes from a Lilac Underpass' tell stories spanning themes of falling in love, grieving loss, self-discovery, growing up and finding self-love.
With seven tracks, the mixtape takes influence from indie-soul front runners Arlo Parks and Easy Life, acoustic folk artists Dodie, Lewis Watson and Nick Drake as well as Freddie's re-ignited childhood love of The Streets. From acoustic pop track 'Fly It Back To Me' to playful indie spoken-word tune 'Cinderella,' Freddie carefully ties together different elements of his favourite genres and interesting lyrical ideas to create a unique, warm and thoughtful collection of songs, full to the brim with everyday imagery, self-realization and the cityscape.
Link to purchase: bit.ly/lilacunderpassmixtape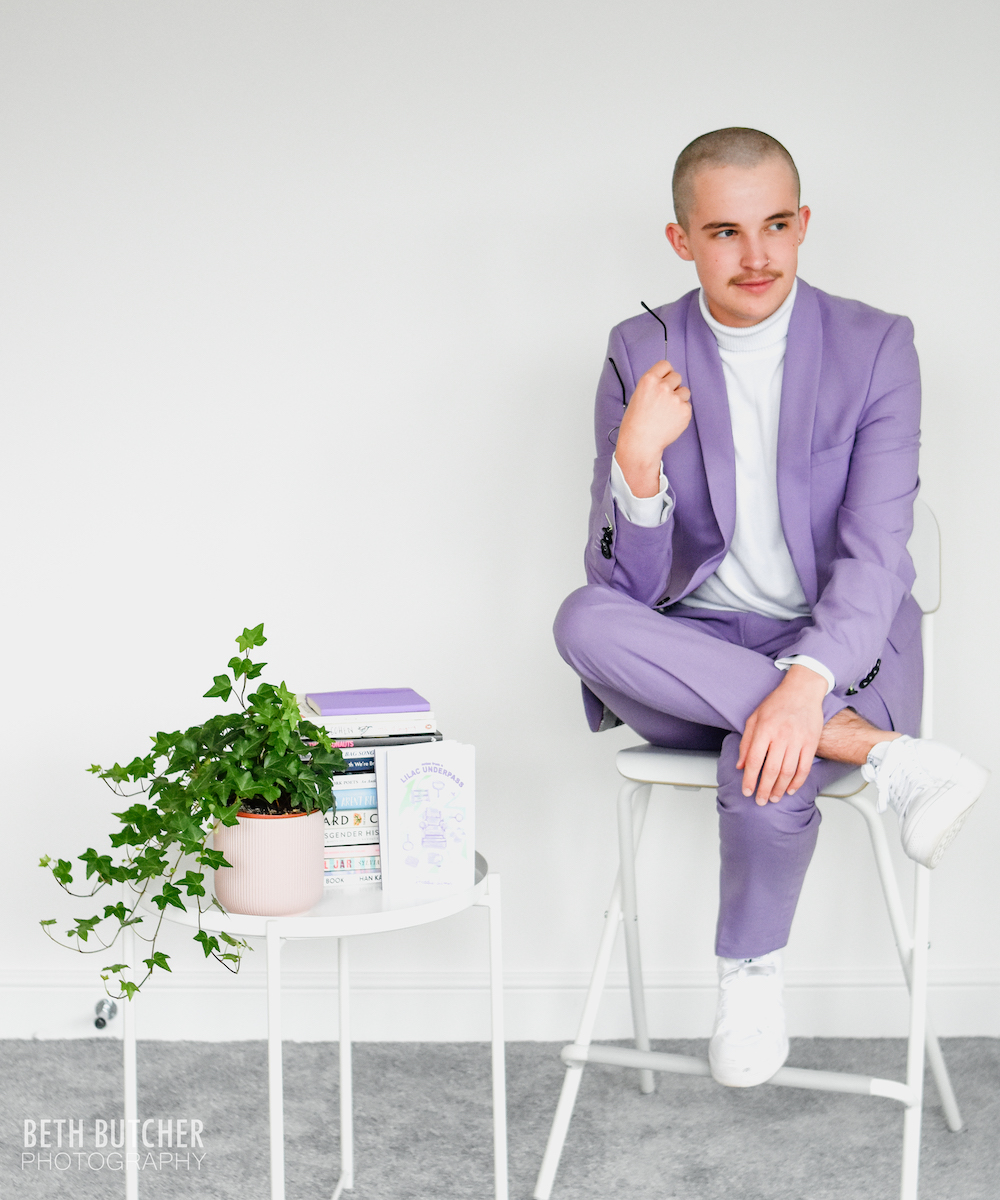 About Freddie Lewis
Freddie Lewis is a poet, songwriter and performer writing his way through his experiences as a young trans person. Having recently finished university, he has written and released a series of singles throughout the summer of 2021 — each being showcased on BBC Radio and endorsed by the likes of Lucy Spraggan and Phil Taggart. Spoken-word sections and catchy hook melodies punctuate his unique brand of bedroom-pop, which takes influence from indie soul, acoustic folk, and all of Freddie's favourite poets. He uses his music and poetry to share his journey toward finding self-love as a queer person, creating his own sound defined by thoughtful and playful lyricism, memorable top lines and unreserved emotion.
Freddie's website: https://www.freddie-lewis.co.uk/
Freddie's Social Media: Spotify, TikTok, Instagram, Facebook, Twitter, Youtube
Image credit: Beth Butcher Photography