Brainstorming Playful Gamification for a Non-Cis Gender Somatic Pleasure Practice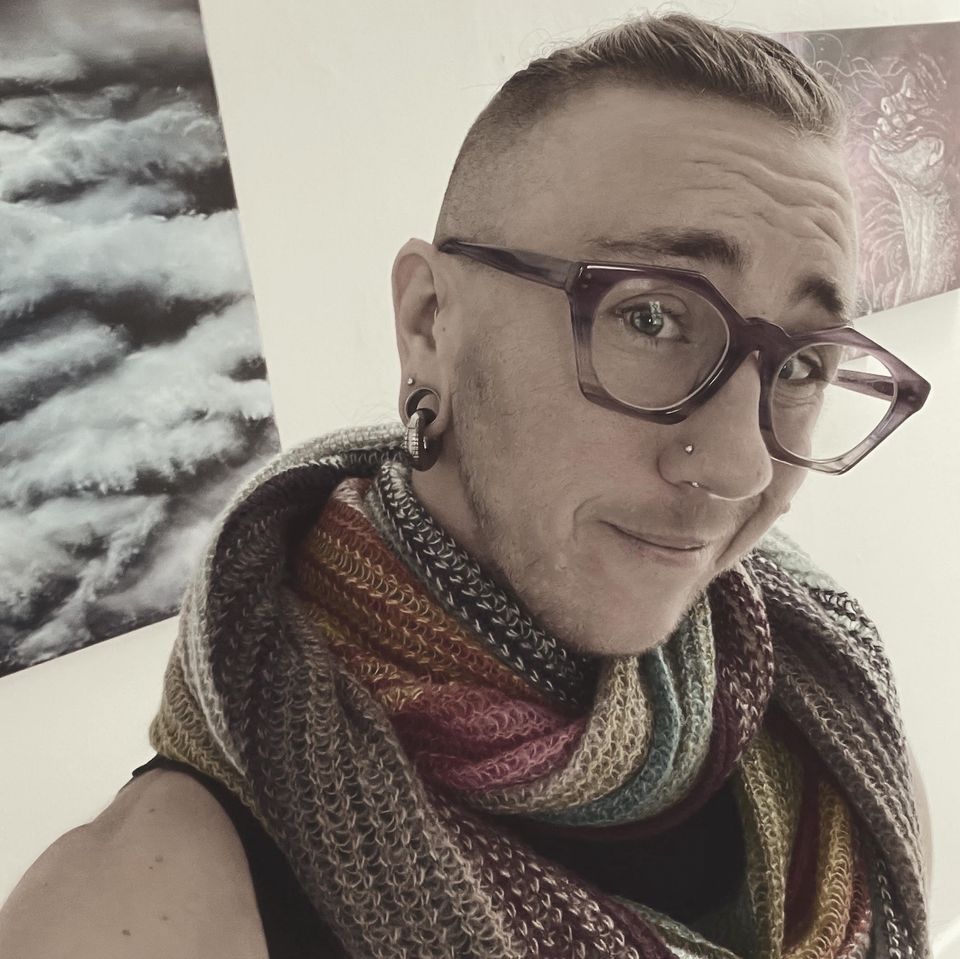 A Think Queerly Podcast IDEA(tion) coaching session with queer creator, Ro Rose — TQ215
Ro Rose is currently a student at the Somatic Sex Education Institute. They have been working with me for the last four months. I coach Ro around IDEA(tion) — to help them gain Insight, establish consistent Direction, and take efficient steps that are in Emotional Alignment to maintain momentum while making progress on what they want to accomplish.
In this Think Queerly IDEA(tion) Coaching episode, I ask Ro what question or struggle they want to work through in our session. Ro has noticed in their study of Somatic sex education and movement that practitioners are taught to "down-regulate" during treatment to calm down — which is the opposite of what they want to do.
Ro wants to know how to marry their own excitation (which they love about themselves and tend towards, mostly as a form of trauma response relating to their ADHD and neurodiversity) with the pairing of creative art therapies and somatic therapies. They also want to find more ways to offer invitations to people to engage in play and excitation within the lens of mindfulness and somatics.
Ro works with people who are non-cisgender identified and want to do their gendering differently than what they see in the world to claim sovereignty with how they feel about their body and pleasure. Their challenge as a therapist of being trauma aware and being able to meet people where they're at and accepting what they say at face value. How can they invite people into excitation, that's safe but challenges the other person's comfort zone?
"I alchemize pain into excitation instead of freeze."
I asked Ro, "Why is that meaningful to you, and what does that make of you to have the freedom to go into your excitation?" In a single sentence, they distilled their answer into, "I alchemize pain into excitation instead of freeze."They explain this idea further, relating to their own past sexual trauma and how they have dealt with this in their own way.
Going further, I asked Ro, "What is the core value for you about your statement, 'to alchemize pain into excitation instead of freeze'?" They decided on curiosity and flexibility — in the sense of learning how to release our hold on what 'should be' — with the crux of queerness questioning the 'shoulds' in life. A good juxtaposition to a 'should' is, learning to wonder or ask, 'What am I going to do from this place?'
In the process of their somatic practice, we brainstormed what kind of warm-ups or ritualizing they can use to prime the nervous system of the person they are working with. Ro came up with a great idea to use: a deck of cards for exploring one's archetypes (e.g., the clown), which is both non-linear and non-hierarchical as an exercise.
'The crux of queerness questioning the 'shoulds' in life.'
We then discussed how to gamify the practice — how to keep it playful to allow for the unexpected — without the practice being about winning (in the sense of reaching a definitive outcome). Make it playful for adults — like when you were a child and played freely and without concern for others' opinions or judgement (and how to remain in that creative flow).
Next, we brainstormed a few more ideas to increase self-discovery. One was a "book of invitations" to push beyond your comfort zone using the archetypes. On one side of the page, a practice that challenges your comfort zone; on the other side, a practice that increases comfort. Other ideas included a calendar to track one's cycle; a scrapbook/collaborative art journal, and; breaking a mirror into pieces and placing it across a wall to look at one's body from different angles (to see yourself adjacently) that feel appealing.
Apologies for the unexpected background construction noise and people speaking in the adjacent room at the 31- and 49-minute marks.
About Ro Rose
Ro Rose identifies most with they/them pronouns in mixed and public spaces such as this.
They are a white-bodied immigrant and settler from Huichin (WHO-chin) in Northern California now living on the islands of Tiohti:áke (JOE-jaw-GAY) in Southern Québec. They are of Celtic, Nordic, and Eastern European Jewry descent.
Some terms they often identify with these days: trans-bodied, FtX boi, rheostat, leather dyke, non-monogamous, crone-in-training, and sacred intimate. They offer community care work as a pleasure practitioner, offering erotic coaching as well as gendering embodiment guidance. You can find them on Instagram @somaticgendering as well as @somaticqueering.
---
Is It 2022 Already?
If you're wondering how to make a difference in your life in 2022, consider these questions:
What are you most passionate about? What excites you, brings you joy, and motivates you? Are you spending as much time and energy on your passion as you'd like?
What are you struggling with at the moment? What do you think is causing that and what's stopping you from solving this problem?
What's your number one goal? Or, what's the most impactful goal you want to accomplish over the next 90 days? What would achieving that goal make of you?
If you'd like to dive deeper into these questions with me, let's have a conversation.